Highland High School

In Memory
Lee Skidmore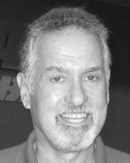 LEE SKIDMORE
1947 ~ 2016
"A UTAH MAN AM I"
Our world suddenly and irrevocably changed when we lost our one of a kind husband, dad, papa, son, brother, nephew, uncle, cousin and friend on July 8, 2016. He was beloved and respected by all who knew him.
Lee Spencer Skidmore was born in Salt Lake City, Utah on November 11, 1947. He was blessed to be adopted at birth by parents who adored him, Rex Austin and Knell Spencer Skidmore. They provided him with love, the best childhood a person could dream of, and a younger brother, Larry. Lee later blessed them with three grandchildren they adored. Through DNA, Lee had recently discovered strong Ashkenazi Jewish roots and was actively researching his origins. Undoubtedly, those mysteries have now been solved.
Lee grew up in Salt Lake City, doted upon by loving parents, grandparents, and a large extended family. He adored his Grandpa Spencer. Graduating from Highland High School in 1966, he served as a missionary in the North British Mission, then served in the Air National Guard as a cook. He claims the only skills he learned were peeling potatoes and cracking eggs with one hand.
Keenly intelligent, he graduated from the University of Utah with a degree in accounting in 1972 and earned his MBA degree in 1973. While attending school, he married Christine Pugmire in 1971. Leesa joined them in 1972. The little family moved to California in 1973 where Lee worked as a CPA for John F. Forbes & Co., a large accounting firm in San Francisco. Megan was born in Berkeley, California in 1975. Homesick for family, they moved back to Utah, buying a home in Sandy in 1976. Steven Lee joined the family in 1978. Lee and Chris raised their family and resided in Sandy the next 40 years. They cherish the close friendships that have endured for 40 years.
Lee spent most of his career working at Huntsman Corp. where he was highly respected for his strong work ethic, honesty, integrity, and diligence. There he also made friendships that have endured. He retired in 2010 to a slower paced life that enabled him to pursue other interests. He spent time reading, working on investments, and helping Chris enter the world of technology.
Lee was passionate about University of Utah sports and avidly followed every aspect of Utah football and basketball. He spent hours reading all the sports blogs. Lee began attending games with his father at the age of 3 and continued that tradition the rest of his life with season tickets in both sports. He was so proud that all his children received degrees from the U and all his posterity were avid Utes. Highlights were trips to the Final Four and the Sugar Bowl win with the whole family.
Lee's other great passion was his family. He adored his grandchildren and so enjoyed watching them participate in all their sports and activities. He was so proud of their academic achievements and always urged them to work hard.
Lee set a wonderful example as father and grandfather. He was a partner, confidant, support, best friend and beloved companion to his wife Chris. He made a quiet but profound impact on his world and he touched the lives of all who knew him with his simple, humble, unassuming ways.
Lee is survived by his wife, Christine; daughters Leesa Skidmore Leonard and her sons Austin, Brennan, and Keaton; Megan Skidmore Chepkwurui, husband Jimmy and children Jaxon, Jada, Jacee, and Jacoby, D'Angelo and Jacob Mpungi; son Steven Lee Skidmore, his daughter Layla and Layla's brothers, Robert and Devyn Wright. His brother, Larry Rex Skidmore, and numerous aunts, uncles, cousins, nieces and nephews on both sides of the family will also miss him. He was beloved by Chris's parents, Blaine Pugmire (deceased), and Virginia and Lee Jackson, as well as her siblings, Randy and Annette Pugmire, Brian and Cindi Pugmire, and Brenda and Dan Jorgensen.
Generous with donations to the Graduate School of Social Work, Lee maintained a scholarship fund in honor of his father, Dean Rex A. Skidmore. Our family would like to instate the Lee Spencer Skidmore Scholarship and would appreciate contributions in lieu of flowers. Please contact the University of Utah, College of Social Work to donate 801-581-6192 or socialwork.utah.edu.
Funeral services will be held on Saturday, July 16, 2016 at 11:00 am at Larkin Sunset Gardens, 1950 East Dimple Dell Road (10600 South) in Sandy. Viewings will be held on Friday evening from 6:00 to 8:00 pm and on Saturday from 9:45 to 10:45 am prior to services at the mortuary. Interment at Larkin Sunset Gardens Cemetery. Online condolences may be shared at www.larkinmortuary.com
Published in Deseret News from July 12 to July 15, 2016